Amy Samuels
was the first mermaid. She first Appeared in
Season 1
Episode 1, being the creator of the S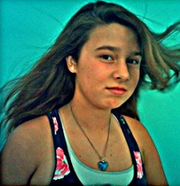 eries. Through out the series, you have a chance to see her sister,
Tess
and her Mother, Her father has been mentioned, but never seen. Her best friends are:
Brenna
,
Kelsey
and
Blaire
. Brenna is the first of Amy's friends to be seen on the show, but it is mentioned the Kelsey and Amy are friends first. Blaire arrives in
Season 3
, and does more bad for the group than good... Most of the time. Amy's friends tend to get into a lot of fights, and she usually ends up in the middle of them.
Her tail
was originally pink, but the Blue Moon changed the color to Sky blue in
Season 2
, and her
necklace
matched. It was then changed again to a darker blue after drinking a potion the girl's made.